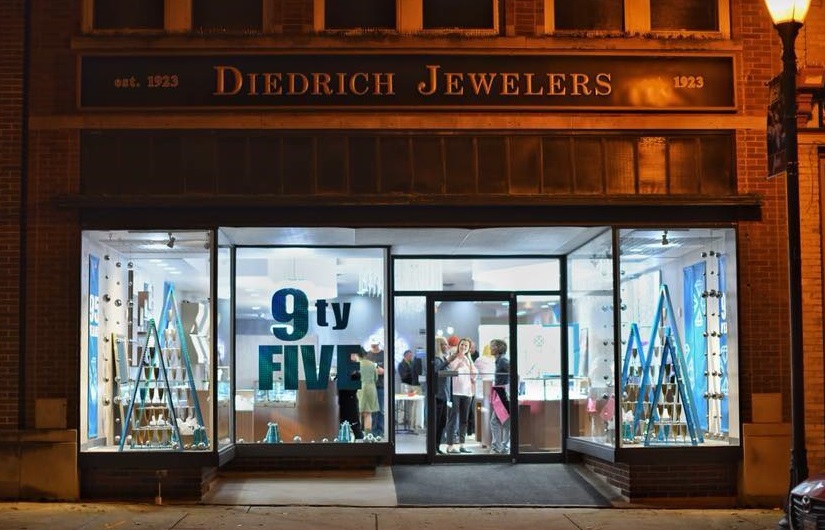 Harry Diedrich opened Diedrich Jewelers at 204 Watson Street in downtown Ripon in 1923. Customer service was the cornerstone of Harry's business while offering a large selection of fine jewelry, watches, giftware and clocks.
Bob Mathia began working at Diedrich's in 1957. He was Harry's right hand, and was taught every aspect of the jewelry business.
Harry died in 1977 and on January 1, 1978 Bob and Joan Mathia bought the store, keeping the Diedrich Jewelers name. In 1980 the Ripon store moved to a larger building at 212 Watson St. where it is currently located.
Our Berlin store
The history of Diedrich-Mathia Jewelers dates back to sometime between 1892 and 1897 when Edward G. Longcroft owned the jewelry store. He owned the business until Mr. & Mrs. Elmer Fiedler took it over and ran the store for five and one half decades.

In 1978, Bob & Joan Mathia purchased the Berlin jewelry store from the Fiedlers. Wanting to provide recognition of the Mathia name in Berlin, they chose to establish the store name of Diedrich-Mathia Jewelers. Ann Belau, Bob and Joan's daughter, has worked in the family business since 1980 and managed the Berlin store until it closed in October, 2018. Ann now works in the Ripon store.
We are a full-service jewelry store offering a large selection of diamond engagement rings, diamond fashion jewelry, designer collections, and watches, in addition to offering jewelry and watch repair, appraisals and custom designs.
Our family-owned business is committed to making every customer feel comfortable, whether they are purchasing an engagement ring or looking for the perfect birthday or anniversary gift. Our years of experience combined with our customer service have built a solid reputation for generations in the Ripon and Berlin area.